Studio Shop
Fine Art Prints and more, straight from the illustration studio of David Fleck.
Start Exploring
What's on the printing press...
Here are the most popular pieces that I've been making in the studio recently
Regular price

From $25.00 USD

Regular price

Sale price

From $25.00 USD

Unit price

per

Regular price

From $25.00 USD

Regular price

Sale price

From $25.00 USD

Unit price

per
Fine Art Prints

The art prints I make are known as giclée prints, made with acid-free fine art papers and archival pigment inks- resulting in gallery quality art pieces. Each piece is prepared by me in my studio and signed by hand.

Care for your Prints

Fine art prints will stay colourful and rich for hundreds of years, but like any artwork if you want to keep it at its very best display them out of direct sunlight and protected in a glass fronted frame.

Care for the earth

I try to operate as a 'Net-Zero' business, with a positive impact on the environment and society. For the unavoidable carbon footprint the business has I'm planting trees to offset. It's a work in progress and not a perfect system, but I'll do what I can!
Trying to pick a gift for someone?
Art can be personal, so it can sometimes be hard to decide.
I now have digital gift cards, so you can leave the final choice to them!
Gift Cards
Important info if you're in the EU or EEA
You will be responsible for paying customs/duties on your order.

Please be aware that following Brexit you are likely to need to pay customs/duties in your own country in order to receive your order.

If you don't pay these charges, your order will be returned to me- it will be frustrating for you, and expensive for me!

Please only order if you understand and accept that these charges can occur. 
Why is there a charge?

Following Brexit there have been a number of changes to how things are sent from great Britain to the EU. The new arrangements require taxes and duties to be paid locally on anything I send. This change will impact you if you are based in the EU or EEA and place an order with me.

Large businesses have the resources to navigate and manage the complex new paperwork and legal compliance involved in paying these taxes in advance, which is why you might not need to do this when ordering from some large companies. However it's simply impossible for small businesses like mine, and the responsibility for paying these charges unfortunately falls on the customer.
What will happen when I order?

The amount you pay in my studio store will EXCLUDE any tax and customs charge. As a small business it's not currently possible for me to collect or pay this on your behalf.

It's highly likely that you will need to pay customs/duties charges on your order. You will need to pay these to your own local service- normally your local delivery service (ie. Deutsche Post for Germany). 

You should receive a note or message from your local sevice notifying you that a charge needs to be paid, and details of how to pay. Please look out for this note, it will be important not to miss it. After you have paid, the delivery will be completed.
How much will customs and duties be?

Your local delivery service will let you know at the point where it is processed by them. It will vary depending on where you are, but if you want to estimate the amount in advance it's generally the standard VAT or GST rate of your country, plus a flat rate handling fee from your delivery service. 

The prices you pay me exclude any VAT or GST, so think of it like paying the bill in two parts- one part to me, and one part to your own government.
What If I don't pay the charge?

You must pay any charges in order to get the package- if you don't, it will be returned to me. It will be frustrating for you, and very expensive for me!

If you're unwilling to accept any charges, please don't place an order.

It's a frustrating situation and I wish I could offer better to you, but at the moment this is the only way I can still send my art prints to the EU.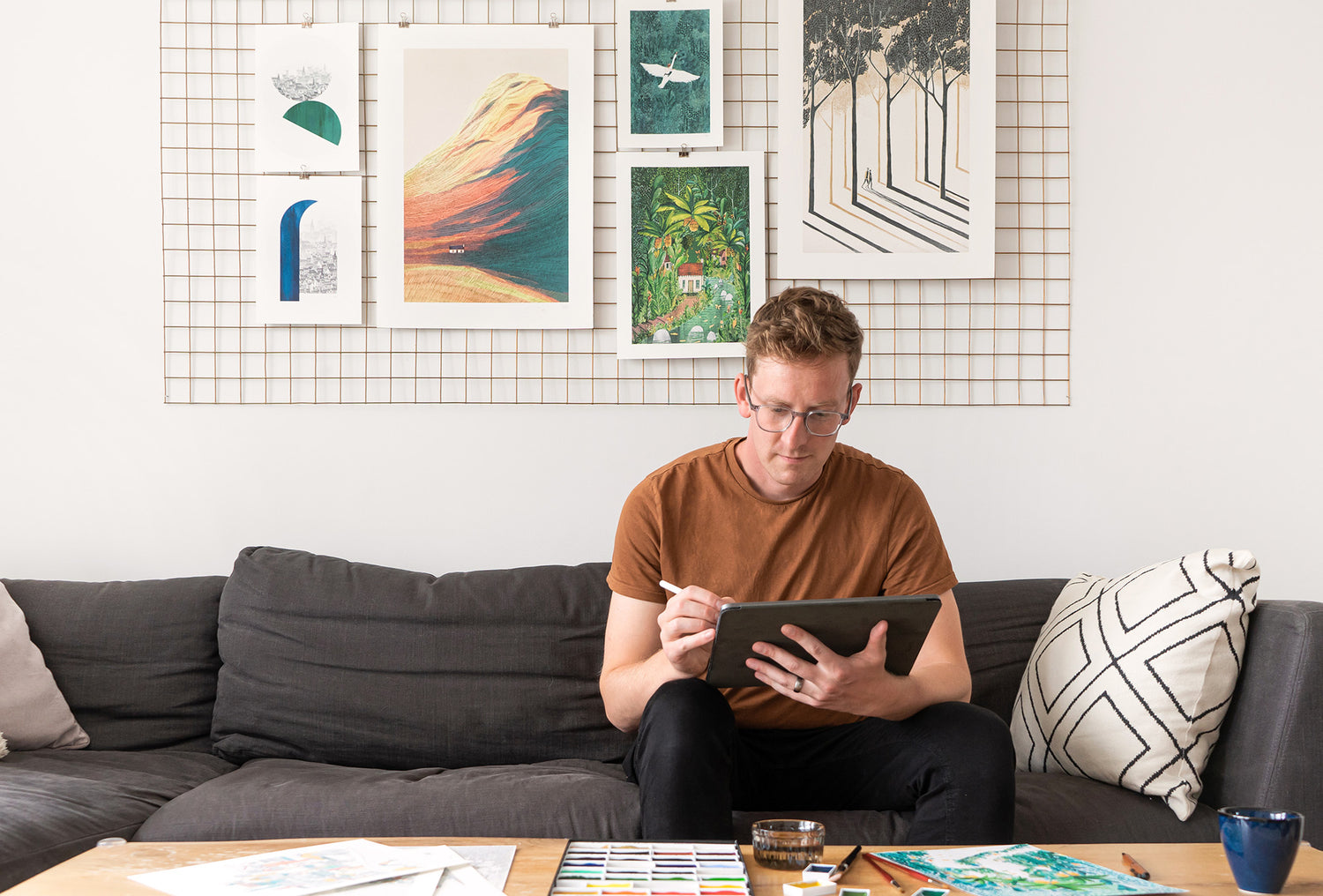 For me, every illustration is a playground of discovery, a world of stories waiting to be uncovered and shared.
Based in Glasgow, my illustration practice centres around Scottish landscapes as well as more fantastic and imaginary places. To explore more of my work, visit:
Portfolio